PREMIUM FEATURE for ORGANIZATIONS
Online Approval
Have timesheets approved online by supervisors & faculty members – no paper required.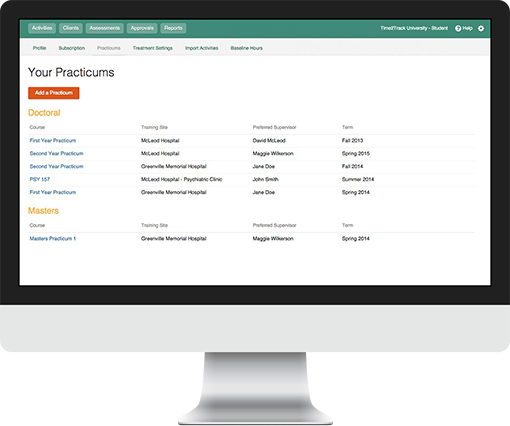 Track hours by practicum & supervisor.
With Time2Track Online Supervisor Approval, trainees can track activities by course, training site, and supervisor.
Submit hours to supervisors online.
Activities can be submitted to supervisors for approval through Time2Track. Supervisors receive email notifications alerting them to pending approval requests.
Supervisors approve hours electronically.
Supervisors and faculty members log into their free Time2Track accounts to approve hours with just a few clicks, no paper required. Once approved, the supervisee is alerted in real-time. If the hours are rejected, supervisors and faculty members can attach a note explaining why, then the hours can be edited and resubmitted.
I love Time2Track. It is so easy to use, affordable, supervisors can sign it online, and best of all, your hours transfer very easily to your APPIC application!
Transform Your Program's Record Keeping Today.
Transform Your Program's Record Keeping Today.